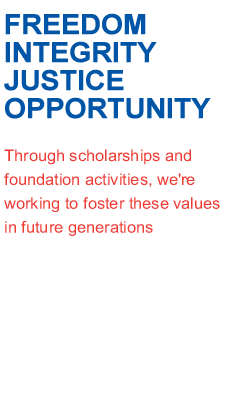 The National Law Enforcement Museum
The National Law Enforcement Museum in Washington, DC opened in 2018. The J. Edgar Hoover Foundation generously funded the J. Edgar Hoover Research Center within the Museum.
The opening drew hundreds of attendees from across the country. Remarks were kicked off by renowned actor Clint Eastwood who has served as the honorary chairman of the fundraising campaign for the Museum. The Chairman of the J. Edgar Hoover Foundation, William D. Branon, also attended the opening.
Telling the story of law enforcement in America
In the year 2000, the United States Congress and President Bill Clinton authorized the establishment of the Museum, paving the way for the nation's largest museum honoring the duty and sacrifice of America's law enforcement officers. The Museum's Hall of Rememberance is a tranquil, reflective space where you can pay respect to the American law enforcement officers who have died in the line of duty.
The mission of the Museum is to tell the story of American law enforcement through exhibits, collections, research and education. The Museum dynamically engages the broadest possible audience in this story in an effort to build mutual respect and foster cooperation between the public and the law enforcement profession. By doing so, the Museum contributes to a safer society and serves to uphold the democratic ideals of the U.S. Constitution.
A Natural Extension of the Memorial
The Museum is a natural extension of the National Law Enforcement Officers Memorial. The Museum is a place where all Americans can honor, remember and learn about the hardworking heroes who keep us safe and provide the backbone of our democratic society.
An Interactive Opportunity to Walk in an Officer's Shoes
The Museum creates a unique opportunity for visitors to become immersed in the exciting and often dangerous lives of law enforcement officers. Visitors can learn about the evolution of American law enforcement from the first days of night watch in the 1600s to today's state-of-the-art, high-tech criminal investigations. Interactive exhibitions allow visitors to walk in an officer's shoes and experience, firsthand, what it is like to make life-or-death decisions, solve crimes and keep Americans safe while maintaining a free and open society.
More than a physical structure, this magnificent Museum is a hub for America's diverse law enforcement professionals. It is a place where officers, families, friends, colleagues and all Americans fascinated with and grateful to these American heroes can come together as one unified community.
A Matter of Honor
The Museum needs ongoing assistance from people like you. As you explore this world-class Museum, you will come to better appreciate the sacrifice and commitment of America's law enforcement officers and learn why the Museum is important. Consider becoming a member or donating to the National Law Enforcement Museum. Visit often to learn more about the exciting exhibitions.
**Images courtesy of the National Law Enforcement Museum