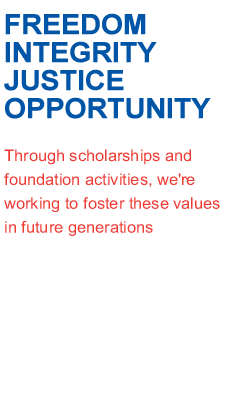 J. Edgar Hoover Memorabilia
Following the death of Mr. Hoover and Mr. Tolson, many items of Mr. Hoover's personal memorabilia came into custody of the J. Edgar Hoover Foundation. This included everything from early family pictures to school report cards to law school notebooks to thousands of photographs, awards, and other such items. Originally stored at the Freedoms Foundation offices in Gettysburg, PA, it was moved to Washington, DC with the cooperation of C. Fred Kleinknecht, 33 degree, Sovereign Grand Commander, The Supreme Council, 33 degree, Ancient and Accepted Scottish Rite of Freemasonry and established at The Temple, 16th and S Streets, NW, Washington, DC.
The J. Edgar Hoover room dedicated to the law enforcement community was constructed in The Temple where his desk, chair, and many historical items from the collection were displayed. Fidelity, Bravery and Integrity –these words not only represent the chief qualities of the FBI, but also characteristics that made the life of John Edgar Hoover, 33 degree, G. C., so significant to our nation. As Ill. Hoover said in addressing The Supreme Council, 33 degree, on October 19, 1965: "America will continue to progress in dignity and freedom so long as our people cherish liberty and justice and truth and honor God. Faith in God. That is the fortress of free men."
In 2009, the new Sovereign Grand Commander developed plans for renovation and re-designation of the limited space at The Temple which led to a temporary move of the collection. Perhaps fortuitously, the collection was stored at a location adjacent to space being used by the National Law Enforcement Museum. Subsequent negotiations led to the J. Edgar Hoover Foundation gifting the collection to the Museum. In conjunction with the gift of the collection, the Foundation pledged $100.000.00 to the Museum, plus raised additional funds thru solicitation of its members and members of the Society of Special Agents of the FBI, the FBI National Academy Associates, the Society of FBI Alumni, the FBI Agents Association, and the National Executive Institute Associates.
Ground was broken for the National Law Enforcement Museum on October 14, 2010, and the museum opened in 2018. This world-class Museum includes education and research as key components of its purpose. The research center at the Museum is named the J. Edgar Hoover Research Center, in honor of Director Hoover and his contributions to the professionalization of law enforcement. The Museum is located adjacent to the National Law Enforcement Officer Memorial on Judiciary Square in downtown Washington, DC.